Patanjali Nutrela Kids Superfood (Pack of 1)
Patanjali Nutrela Kids Superfood is a balanced nutrition drink with milk protein, vitamins, and botanical extracts for growing kids
Memory & Brain Development
Active Growth
Bone & Teeth Strength
Check pin code serviceability
Please enter PIN code to check delivery time & Pay on Delivery Availability
Free Delivery
No Replacement
Product Information
Scientifically formulated as per ICMR guidelines - with Milk proteins, biofermented vitamins with botanical extracts and essential amino acids for age group 4-13yrs
Balanced nutrition enriched with kids super food Dry fruits powder like walnut and dates, with high quality whey protein, FOS, cow milk calcum, and herbal extracts
26gm Protien / 100gm, 100% Vegetaraian, GMO & Gluten free,
Easily digested and quickly absorbed into the body
Free from harmful chemicals and synthetic additives
From the house of Patanjali with power of Ayurveda
Made with natural ingredients and biofermented vitamins
No artifical colour, no added preservative and tranfat free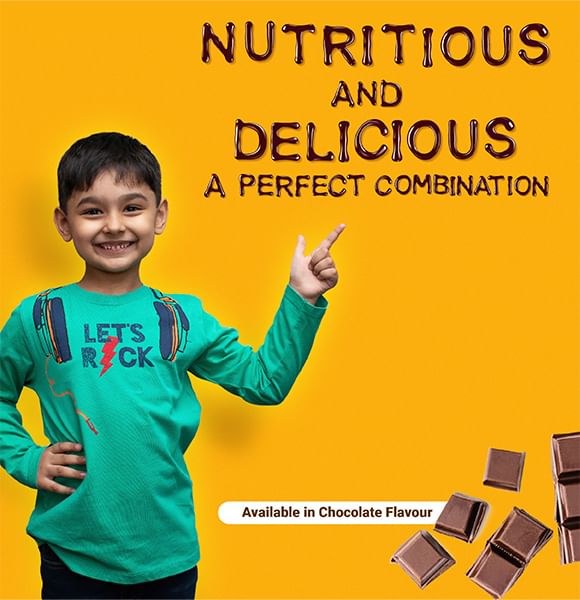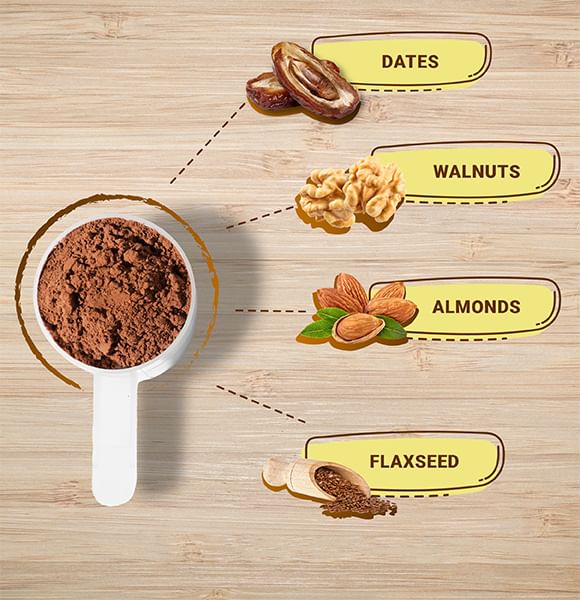 Hero Ingredients
Shankhpushpi
Walnut
Whey Protein Colostrum
Brahmi Extract
Cow Milk Calcium
Dates
Balanced nutrition for kids (4-13 years) for active growth and overall development.
A single pack can serve the daily requirement of kids bweteen 4-13 years old.
For 4-6 Years, take 150 ml of full cream milk and 1 leveled scoop (Approx. 15g) powder, mix well and consume immediately.
For 10-12 Years, take 200 ml of full cream milk and 3 leveled scoops (Approx. 45g) powder, mix well and consume immediately.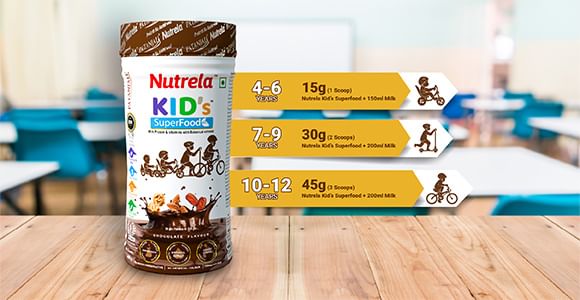 Why Nutrela Nutrition?
Patanjali Nutrela Nutrition provides natural and vegetarian products for general nutrition, sports nutrition, and medical nutrition. Our products are formulated with bio-fermented vitamins, ayurvedic herbs, and natural sources like organic flaxseed and sesame to promote balanced, natural, and healthy nutrition. Our commitment to quality and innovation is evident in our world-class Research and Development facility in Haridwar.
Choose Nutrela Nutrition for safe, effective, and result-oriented natural products. Our 100% vegetarian and non-GMO formulations are free from harmful chemicals and animal-based nutraceuticals, so you can enjoy the benefits of natural and healthy nutrition. Whether you're an athlete or someone looking to maintain their overall health, Patanjali Nutrela Nutrition has the right product for you. Try our products today and experience the difference