Patanjali Nutrela Slim Choice (Pack of 1)
Patanjali Nutrela Slim Choice is a delicious and nutritious low-calorie meal, which is free from side effects and a healthy way to manage weight.
Low GI & High Fiber
Appetite Suppresser
Helps in weight management
Out of stock
This item is currently out of stock
Check pin code serviceability
Please enter PIN code to check delivery time & Pay on Delivery Availability
Free Delivery
No Replacement
Product Information
Take your weight loss and weight management journey to the next level with one of India?EUR(TM)s top selling meal replacement shakes ?EUR" Nutrela Slim Choice. It is a great tasting and hunger satisfying meal replacement shake suitable for weight management with added fructooligosaccharides, minerals, and vitamins.
Each serving provides high quality protein, has low carbohydrate content, and is enriched with fiber and essential vitamins and minerals to provide your body all the essential nutrients.
Enriched with 15g Protein per serving
Contans 25 micro nutrients
Helps control hunger
Reduced Sugar Cravings
Boosts Metabolism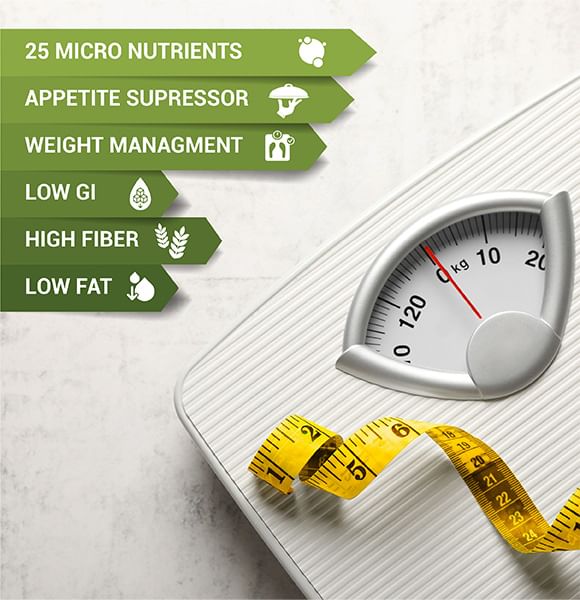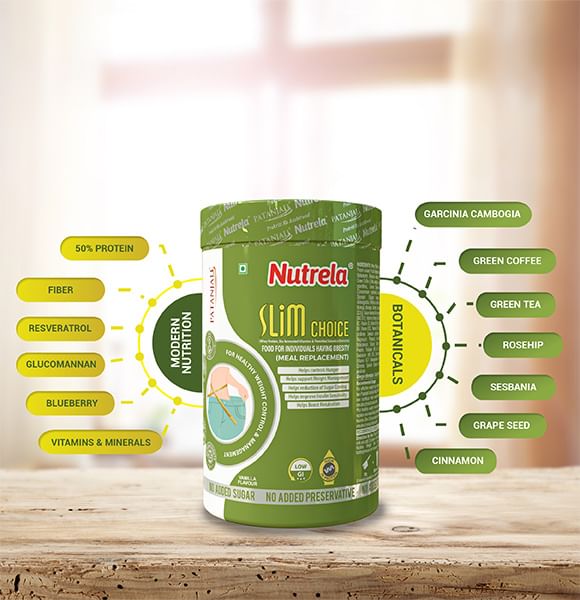 Hero Ingredients
Garcinia Cambogia
Green Coffee
Moringa
Rosehip
Sesbania Extract
Silymarin
Meal replacement shakes are designed to help an individual to lower their calorie intake and manage weight
Ideal for people who struggle to control their food consumption and are convenient for hectic lives.
Take 300 ml of lukewarm skimmed milk and add one spoon (30gm) of Nutrela Slim choice, stir and comsume immediately
For healthy weight management, skip only one meal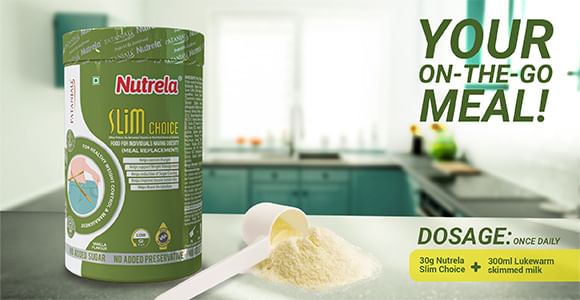 Why Nutrela Nutrition?
Patanjali Nutrela Nutrition provides natural and vegetarian products for general nutrition, sports nutrition, and medical nutrition. Our products are formulated with bio-fermented vitamins, ayurvedic herbs, and natural sources like organic flaxseed and sesame to promote balanced, natural, and healthy nutrition. Our commitment to quality and innovation is evident in our world-class Research and Development facility in Haridwar.
Choose Nutrela Nutrition for safe, effective, and result-oriented natural products. Our 100% vegetarian and non-GMO formulations are free from harmful chemicals and animal-based nutraceuticals, so you can enjoy the benefits of natural and healthy nutrition. Whether you're an athlete or someone looking to maintain their overall health, Patanjali Nutrela Nutrition has the right product for you. Try our products today and experience the difference