Patanjali Nutrela Diabetic Care (Pack of 1)
Patanjali Nutrela Diabetes Care is a scientifically formulated diabetes specific nutrition to help manage blood sugar levels.
Designed as per ESPN guidelines
Low GI Formula
Check pin code serviceability
Please enter PIN code to check delivery time & Pay on Delivery Availability
Free Delivery
No Replacement
Product Information
Scientifically Designed Protein for Diabetics as per ESPN Guidelines to meet 100% RDA requirements
Easy to incorporate in your daily routine makes it an ideal choice for Diabetics.
100% Vegetarian
No Sugar Added
No Artificial Color & Flavour
Preservative Free
Chemical Free
Trans Fat Free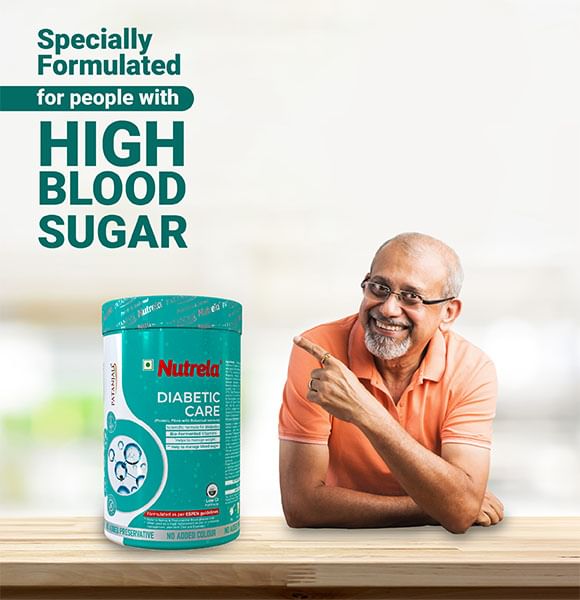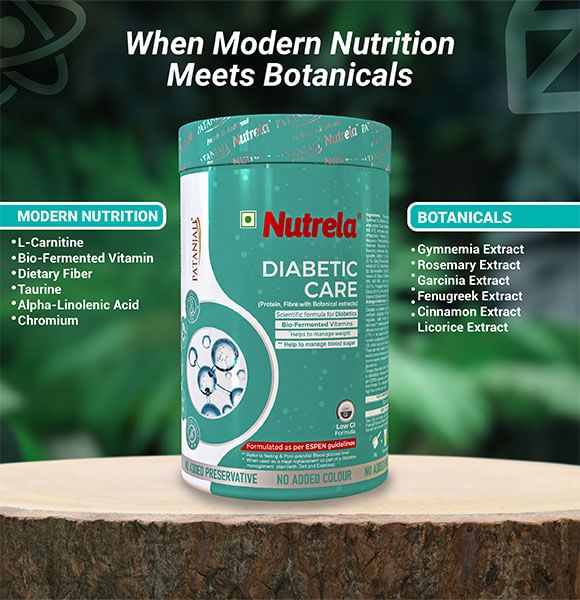 Hero Ingredients
Dietary Fiber
Feenugreek Extract
Garcinia Extract
Gymnemia Extract
Licorice Extract
Rosemery Extract
Anyone with diabetes can use diabetic care since it is a complete nutrition supplement that helps regulate blood sugar levels.
The product is designed scientifically to give diabetics all required nutrients.
Take 190ml ml of water, add 1 scoop of diabetic care, stir quickly to mix well.
As a partial meal replacement ?EUR" 1 serving of DIABETICS CARE can be used before a major meal (e.g. lunch / dinner)?EUR< - As a breakfast replacement?EUR< - Evening snack / healthy bedtime snack?EUR< - Or as directed by your physician / dietician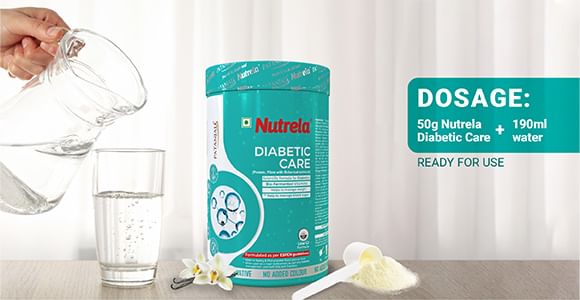 Why Nutrela Nutrition?
Patanjali Nutrela Nutrition provides natural and vegetarian products for general nutrition, sports nutrition, and medical nutrition. Our products are formulated with bio-fermented vitamins, ayurvedic herbs, and natural sources like organic flaxseed and sesame to promote balanced, natural, and healthy nutrition. Our commitment to quality and innovation is evident in our world-class Research and Development facility in Haridwar.
Choose Nutrela Nutrition for safe, effective, and result-oriented natural products. Our 100% vegetarian and non-GMO formulations are free from harmful chemicals and animal-based nutraceuticals, so you can enjoy the benefits of natural and healthy nutrition. Whether you're an athlete or someone looking to maintain their overall health, Patanjali Nutrela Nutrition has the right product for you. Try our products today and experience the difference
Tags: diabetic care supplement, Diabetic Care, Diabetic protein powder, diabetic protein, protein foods for diabetics